linux.conf.au 2017 wants your talks!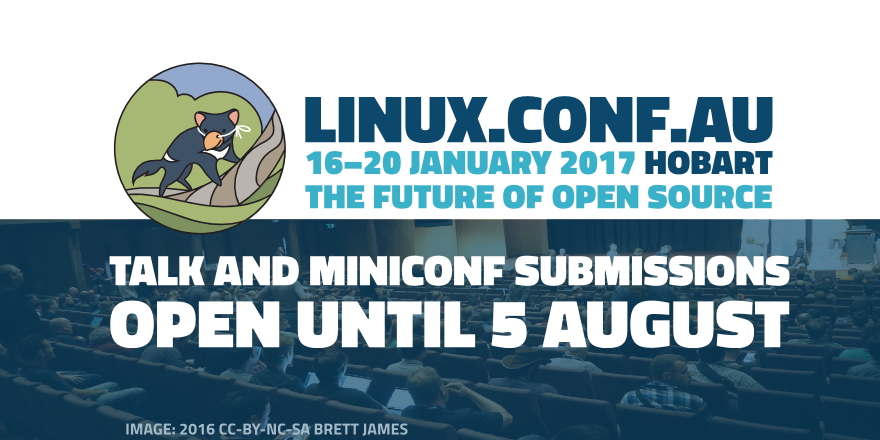 You might have noticed earlier this week that linux.conf.au 2017, which is happening in Hobart, Tasmania (and indeed, which I'm running!) has opened its call for proposals.
Hobart's a wonderful place to visit in January – within a couple of hours drive, there's wonderful undisturbed wilderness to go bushwalking in, historic sites from Tasmania's colonial past, and countless wineries, distilleries, and other producers. Not to mention, the MONA Festival of Music and Arts will probably be taking place around the time of the conference. Coupled with temperate weather, and longer daylight hours than anywhere else in Australia, so there's plenty of time to make the most of your visit.
linux.conf.au is – despite the name – one of the world's best generalist Free and Open Source Software conferences. It's been running annually since 1999, and this year, we're inviting people to talk abut the Future of Open Source.
That's a really big topic area, so here's how our CFP announcement breaks it down:
THE FUTURE OF YOUR PROJECT
linux.conf.au is well-known for deeply technical talks, and lca2017 will be no exception. Our attendees want to be the first to know about new and upcoming developments in the tools they already use every day, and they want to know about new open source technology that they'll be using daily in two years time.

OPENNESS FOR EVERYONE
Many of the techniques that have made Open Source so successful in the software and hardware world are now being applied to fields as disparate as science, data, government, and the law. We want to know how Open Thinking will help to shape your field in the future, and more importantly, we want to know how the rest of the world can help shape the future of Open Source.

THREATS FROM THE FUTURE
It's easy to think that Open Source has won, but for every success we achieve, a new challenge pops up. Are we missing opportunities in desktop and mobile computing? Why is the world suddenly running away from open and federated communications? Why don't the new generation of developers care about licensing? Let's talk about how Software Freedom and Open Source can better meet the needs of our users and developers for years to come.

WHATEVER YOU WANT!
It's hard for us to predict the future, but we know that you should be a part of it. If you think you have something to say about Free and Open Source Software, then we want to hear from you, even if it doesn't fit any of the categories above.
My friend, and former linux.conf.au director, Donna Benjamin blogged about the CFP on medium and tweeted the following yesterday:
At @linuxconfau in Hobart, I'd like to hear how people are USING free & open source software, and what they do to help tend the commons.
Our CFP closes on Friday 5 August – and we're not planning on extending that deadline – so put your thinking caps on. If you have an idea for the conference, feel free to e-mail me for advice, or you can always ask for help on IRC – we're in #linux.conf.au on freenode – or you can find us on Facebook or Twitter.
What does the future of Open Source look like? Tell us by submitting a talk, tutorial, or miniconf proposal now! We can't wait to hear what you have to say.